NetPak's NetPricer works with your software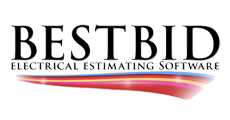 Best Bid Estimating Software
Best Bid Estimating Software is a privately-held company founded in 1997, with locations in Tennessee and North Carolina. The company provides software solutions for estimating Residential, Commercial and Industrial electrical projects along with freelance estimating services.
Best Bid Electrical Estimating Software has successfully integrated Esmarts' NetPak into their estimating software. This new capability gives their contractor users access to IDEA's Industry Data Warehouse (IDW), including manufacturer product data and 3rd column market prices.
"People are liking the new integration with NetPak", said Steve Griffin, CEO of Best Bid's product design division. "With all of the other pricing services in the marketplace we only connect to NetPak. The newest product in the Best Bid line is the Best Bid Hybrid, which comes with our product recognition software for onscreen take-offs. And now being integrated with NetPak, supported by ElectricSmarts and IDEA, it makes this product even more desirable."
Best Bid Electrical Estimating has been a NetPricer partner since 2008. You can find more information on them at: www.bestbidestimating.com
---
Questions? Just call us. 800-503-3333